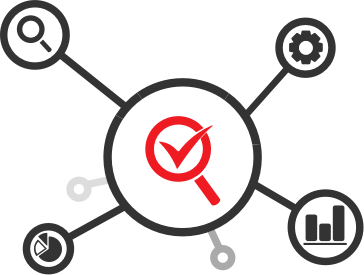 Testing
Understanding the amount of efforts required for developing software, our quality analysts take testing tasks quite seriously. Our skilled testers have great proficiency over- e-commerce testing, mobile testing, automatic testing, security testing, API testing, and performance testing. All in all, we can assist you as your one stop shop for all the testing requirements.
Automated testing

Through our automated testing services, we assure quick feedback, improved communication, no human-errors, a bug-free solution or app, and of course, all of this at minimal cost. Our quality analysts are proficient in testing different types of frameworks, develop release management, and automation script development languages.

Mobile testing

Our quality analysts start the process by drafting a mobile app testing strategy which is further followed by automated test scripts and security compliances for the best results. With this approach, we ensure accurate testing on a string of mobile phones including- iPhone, Android, and Windows.

Manual testing

Under our manual testing, we first analyse the requirements, then come up with a reliable plan, develop new test cases, and then implement them. Our reason behind moving ahead with a pre-determined strategy is to guarantee quality results giving you a reason to trust us.

eCommerce testing

Through our eCommerce testing services, we analyse- payment gateway validations, search engine validations, repository validations, GUI validation. We ensure all the eCommerce elements work appropriately by conducting thorough performance tests, capturing UI, testing all the operational process and much more.

API testing

Our entire API testing process relies on 3 Rs including- response, request and again response (through another medium). We start rolling the ball from verifying the code, rectifying threats and then end up getting them fixed. Throughout our overall testing process, we ensure efficiently integrated GUI tests using different testing types including- discovery, automated, documentation, etc.

Performance testing

Evaluating the responsiveness of software or application is what we focus on the most. Before executing our activities, we make sure to share our ideas with you for better transparency that eliminates the possibility of bugs or any other hurdle. For your convenience, we can conduct performance testing at any phase.